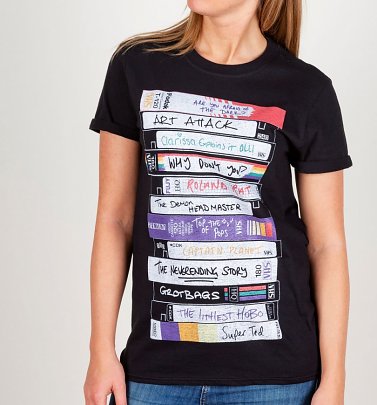 Do you remember when VHS tapes were king? Back in the day, this was the No.1 format for watching the latest movies which you rented from your local video store, but did you remember to rewind the tape before taking it back? I believe you, of course you did!
You can celebrate those golden days with this fabulous retro 80s video tape T-shirt, which has George Michael style rolled sleeves. The design is exclusive to Truffleshuffle, so you can be sure of receiving something very unique.
The tee is available for men and women, and comes in a full range of sizes. It's made from lightweight, soft feel cotton which is pre-shrunk.
The design is thoroughly British, with the stack of cassettes including marker pen style labels (just like they were in my house back in the 80s!) featuring mostly UK TV shows such as Art Attack, Super Ted, Roland Rat and The Demon Headmaster - remember them?
Men's Retro 80s Video Tapes T-shirt
The
The Men's T-shirt is available in sizes from small to 4XL. I certainly need an XL size as, unfortunately, unlike my mind being stuck in the 80s, my body certainly isn't!
You may also like this
Never Forget VHS T-shirt
which is also available for men and women, and comes in a full choice of colours. It features a distorted image which what we had to put up with back then, kids! It's fabulously nostalgic and available at Amazon UK.
I'll leave you with a couple more T-shirt designs which caught my attention...
I Have to Return Some Videotapes Baseball Shirt
VHS Video Tape T-shirt for Men or Women