I have fond memories of the 70s/80s cartoon series Captain Caveman and the Teen Angels by Hanna-Barbera, which followed the superhero caveman and three female amateur detectives. So, for this post, I wanted to show you this cool Captain Caveman "Let's Go Clubbin'" double entendre T-shirt, which I discovered on Amazon, and it's ideal for paying homage to the cartoon.
The TV series originally aired from 1977 to 1980, and although I can no longer remember any of the episodes, I do remember that very loud battle cry "Captain Caaaaavemaaaaaaan" (voiced by Mel Blanc) which kind of went slightly wobbly towards the end!
The T-shirt is perfect for wearing as clubbing attire, of course, although obviously I'm referring to a nightclub and not Captain Caveman's idea of clubbing! It's a unisex fit and available in sizes from small to 3XL. Sadly, it's only available in grey. However, if you want a different coloured tee, then keep reading, as I have some very nice alternative choices for you.
Captain Caveman Let's Go Clubbin' T-shirtBUY from AMAZON
My next T-shirt choice (above) is for men, and it features funny "I'm Bringin'; Sexy Back" text with Captain Caveman stood casually on his logo and leaning on his club. You may remember that his magical club allowed him to fly, and also contained an array of pop-up tools. The T-shirt is available in sizes from small to 3XL and in grey, navy blue or white.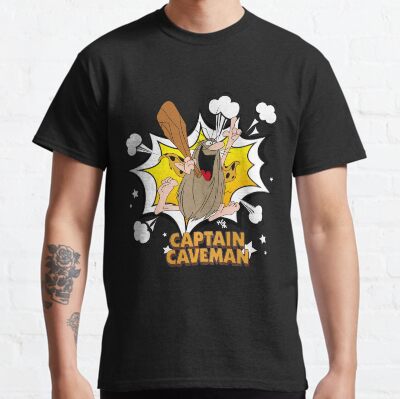 Captain Caveman Classic T-shirt

I also really like this eye-catching design which I discovered on Redbubble. This one is available in a huge choice of colours and in sizes small to 5XL.
The T-shirts are a quirky choice for 80s dress-up, and will capture a glance from plenty of people over a certain age, who have fond memories of the cartoon.
You can see a full range of
Captain Caveman T-shirts
that I've hand-picked on my website Simplyeighties.com.